Please note: Our summer season is now closed and we will not be accepting first time visitors until the spring.
For your protection, all first-time visitors to our gated community must present a valid photo ID at our office and consent to CORI (Criminal Offender Record Information) and SORI (Sexual Offender Record Information) checks.  A valid driver's license with picture is required for ALL adults entering camp.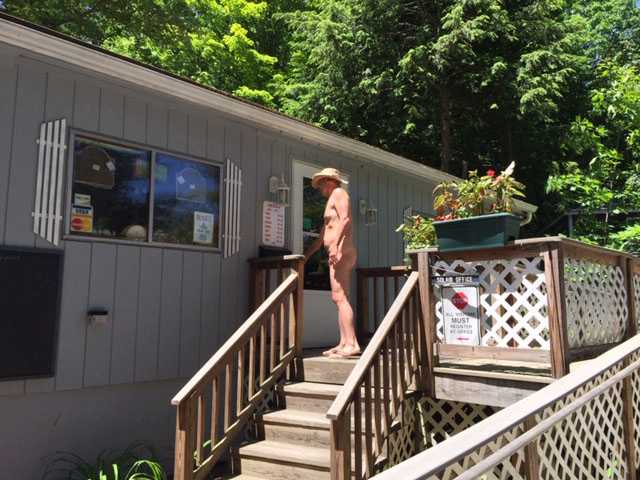 Weekends are best for a first visit so you can take part in our activities and social atmosphere. Please arrive between 10 a.m. and 2 p.m. to be sure a representative is available for you. During the summer months, first time visitors may be allowed to visit during the week, so please call ahead to confirm.
A friendly guide ("yellow hat") from our Membership Committee will accompany you on a tour of Solair and answer your questions. Then, you are free to relax, explore on your own or settle into accommodations if you are staying over. You will see other "yellow hats" all around camp - always feel free to approach any of them if you have any questions or issues.

Please call ahead to reserve overnight accommodations in a rental cabin or RV or tenting site.
Things to bring:
Driver's license - All visitors will need to present their driver's license or government-issued photo ID at the office upon arrival.
Towels - Bring towels to sit on and to dry off from showers and swimming.
Beach Chairs - We have limited chairs available on the beach.
Money - Cash or credit cards to pay your grounds fee and spend at our store and the Sunshine Café.
Proper footwear - Bare feet are fine on the beach, but you will want sandals for the rest of the area and sneakers for hiking and light sports (non-marking soles for the pickleball/tennis courts please.)
Sunscreen - The healthy lifestyle we advocate includes protection from the damaging rays of the sun.
Pets - Pets are OK on a leash although we prefer they be left at home and they CANNOT be in the rental units. Pets are not allowed on the beach or in the pool area.
Things to leave home:
Cameras - Photography is strictly prohibited except by authorized member photographers for specific purposes with the subjects' permission.