Tour of Solair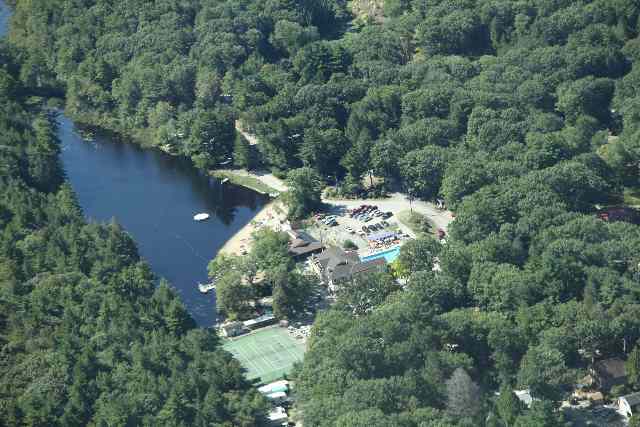 Whether you want to be adventurous and walk our many miles of trails, play a sport, socialize with new friends, or simply sit and relax, Solair has it all.
This aerial view shows the heart of our beautiful camp. Notice the large pond with spacious sandy beach and the solar-heated Olympic-sized swimming pool. For the more active visitor we have two professional tennis courts as well as pickleball, shuffle board, volleyball, and a horse- shoes pit.
Solair sits on 360 acres of woods that are criss-crossed with miles of trails – perfect for leisurely strollers, seasoned hikers, bird watchers, wildflower enthusiasts, and anyone who would be thrilled to spot a wild turkey or deer.
Pavilion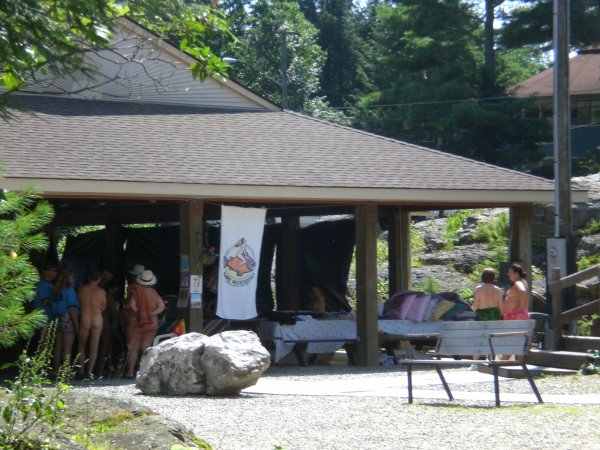 Much of our summer fun takes place in our covered outdoor pavilion. Dances nearly every weekend with a variety of live bands or top DJ's, theme dinners, weekly Saturday afternoon socials, and Sunday Sundaes are all held here – plus  art shows, kids' activities, tie-dying, and other periodic events. The roll-up sides ensure that a rainy day does not ruin your fun!
Community Center
Our Community Center, the heart of our camp, is an attractive, multi-purpose building. The first floor, off the pool, offers our great room where dinners, dances, and other events are held. The earth-friendly unisex bathroom produces no black water, with a renovated unisex shower area, sauna, hot tub, and a small service kitchen. The building has plenty of lounging areas with decks hugging most of the building.
The lower level houses our media center, and game room – all described below. Also on the lower level is the Sunshine Café for your dining needs and an industrial kitchen complete with pizza ovens for our member-run theme dinners.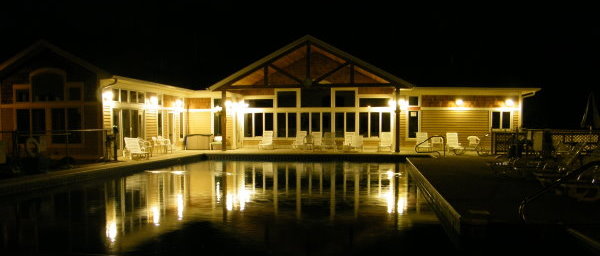 Hot Tub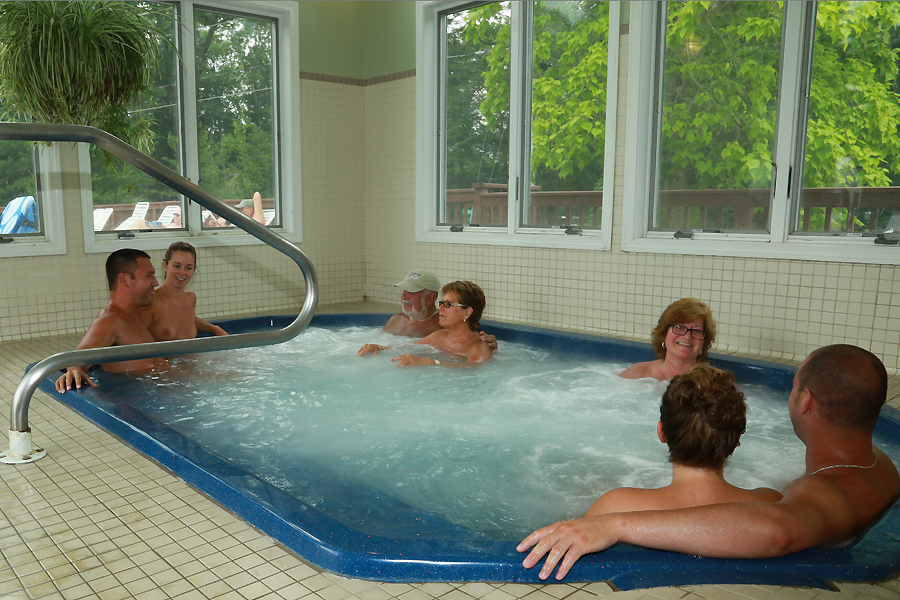 Located just off the pool area with views of our camp on three sides, the 10-person hot tub is the perfect area for relaxing with friends or loosening muscles that may be tired from the week's grind or your vigorous walk or pickleball game at Solair.
Pond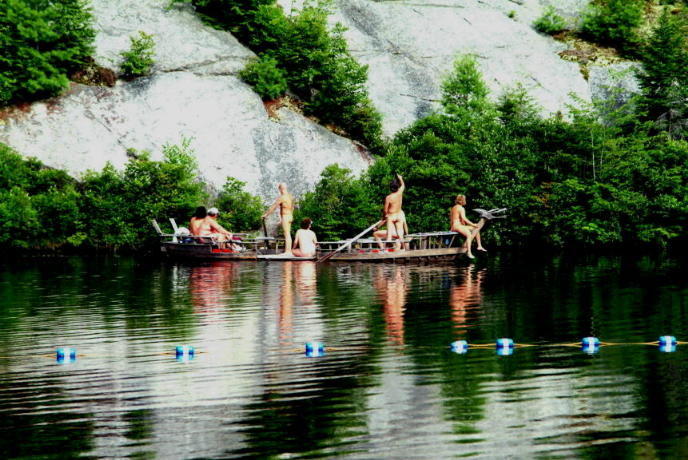 Our serene pond is large enough to get in a long, aerobic swim and compact enough to cross. Swim out to our raft with diving platform or with your kids inside the safely roped area. Paddle boats, canoes, a rowboat, and kayaks are there for all to use and enjoy.
Beach Area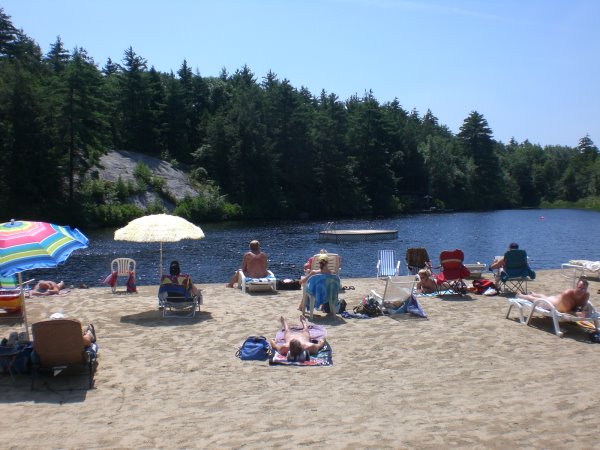 Sunbathe, read, or nap and enjoy a sunny day clothing-free! Several canopies provide shade if you prefer it.
On the far side of the beach there is often a game of bocce going on.
This is also where we have several bonfires every summer and celebrate the 4th of July.
We have an outdoor stage for the occasional band or DJ party.
Pickleball and Tennis Courts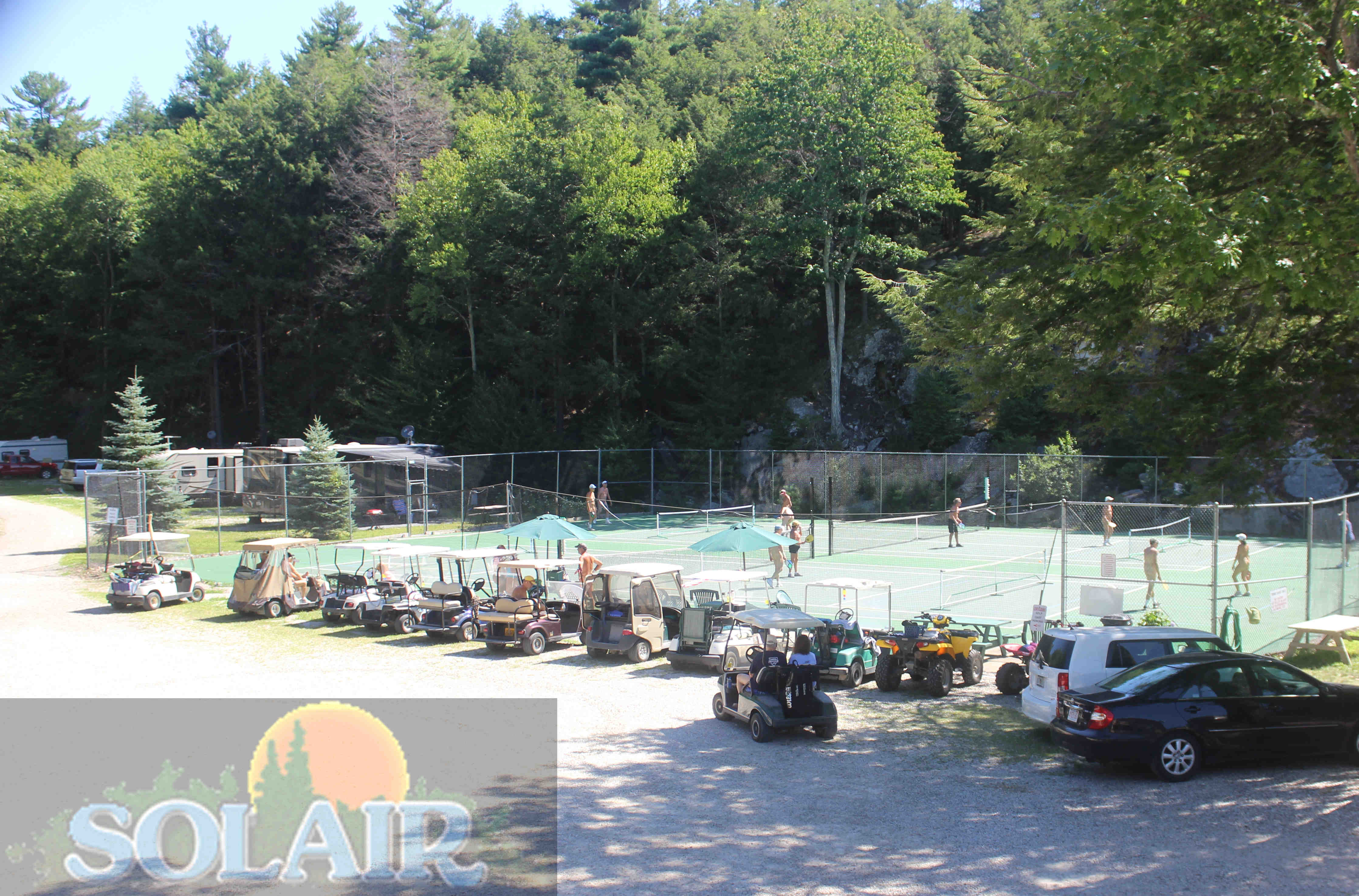 Solair loves its games! We have two beautifully maintained professional tennis courts that also contain four pickleball courts, plus a dedicated tennis hut and deck. Our resident pro's offer you introductions to the games, and all players welcome and encourage newcomers.
Pickleball is easy to pick up and a lot of fun for everyone. Come on out and give it a try! Please bring white, non-marking soles for the courts.
Volleyball Court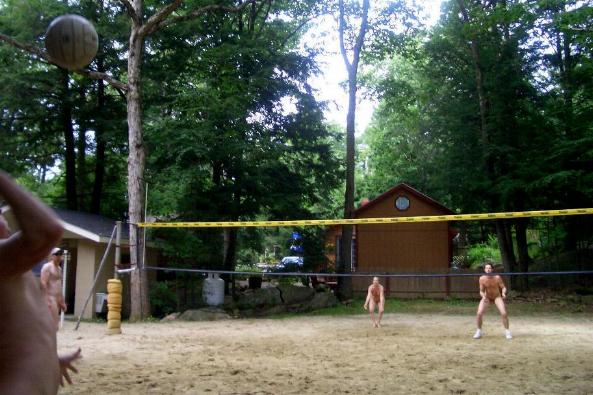 The volleyball court is a gathering place for all those interested in playing or sitting on the bleachers to cheer on the players. Whether you're looking to learn the game or are already experienced, there is always a place for you. Kids gather here for pickup games, and our regular players always welcome new participants. Our volleyball players have brought home the gold from AANR tournaments year after year.
Shuffleboard and Horseshoes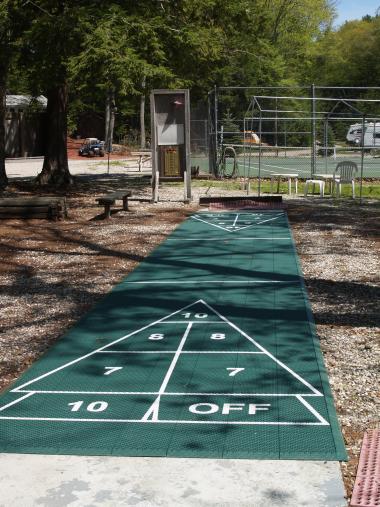 Discover our regulation horseshoe pits as well as a well-maintained shuffleboard court, both located in shaded areas near the tennis courts, Café, pool and beach. Come join the fun for our annual tournaments!
Heated Outdoor Swimming Pool
Our Olympic-sized swimming pool is in the heart of camp, adjacent to the Community Center and an easy walk to all of our rental units as well as the pond beach, tennis, and volleyball. It's maintained at a comfortably warm temperature all summer. As part of Solair's energy-consciousness, the pool is heated by solar panels mounted on the Pavilion.
Camp Store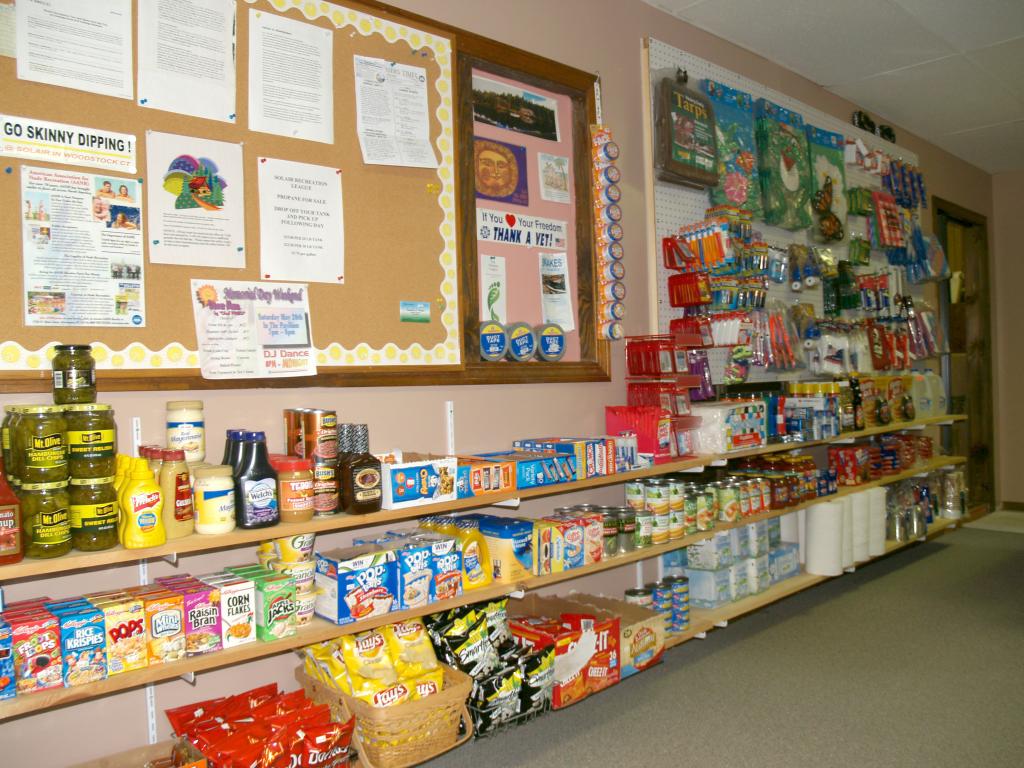 Our camp store is located in the office and carries a thorough selection of necessities. It is well stocked with common over-the-counter medicines, snacks and sodas, water, and non-perishable meal items – plus insect repellent, sunscreen, toiletries, and paper products. Forgot your sandals? No problem - we carry those as well as towels, t-shirts, sarongs, and hats.
Trails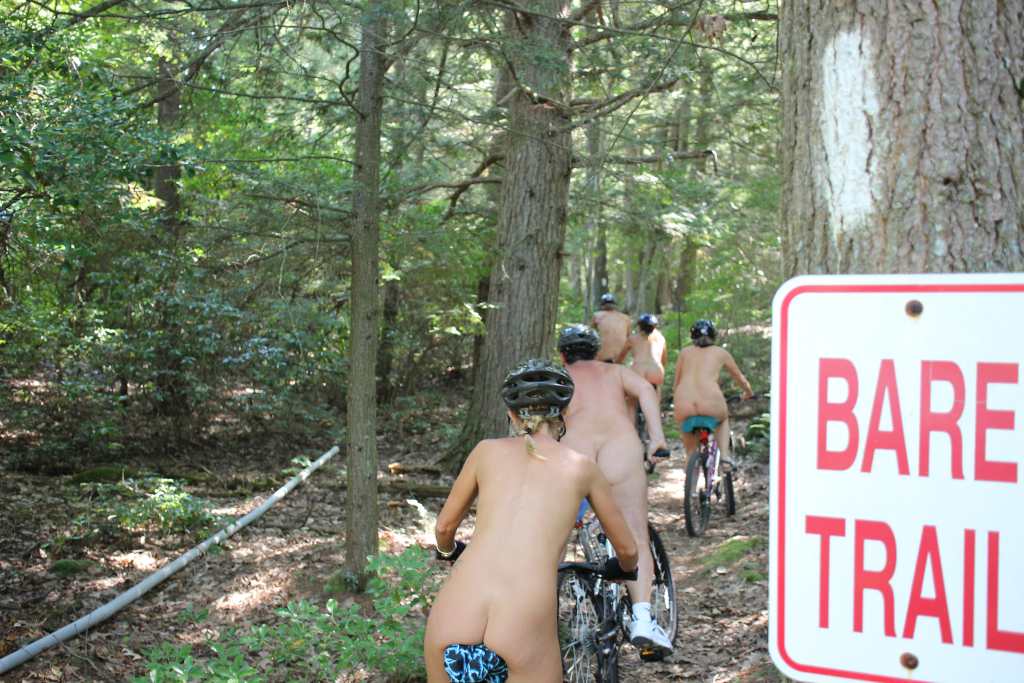 Solair is one AANR's most spacious nudist resorts, with 360 acres on our property. Because most of this acreage is deliberately conserved, it includes many miles of trails marked out for the hiking enthusiast as well as the casual walker. Discover long, winding trails both hilly and flat. Mountain bikes and ATVs are welcome. Our natural surrounds are home to many different species of birds, insects, and animals as well as a magnificent array of wildflowers and vegetation. The waterfall area is a perfect meditation spot.
Kids' Place and Activities
We value the next generation of nudists and work to nurture them in a safe atmosphere where they learn that nudism is natural and fun. Kids can gather to enjoy the many toys at the pool and pond, the playground area on the beach, the teen hut, ping-pong table, and volleyball. Special activities have included coin and duck dunks, the annual fishing derby, tie-dying, crafts, and much more.
Media Center and Game Room
The game room offers pool, ping-pong tables, a bumper pool table, foosball and electronic darts. Free Wi-Fi, public computers, a Hi-Def widescreen TV, and collection of DVDs are for everyone to enjoy. 
Arent Pavilion
Newly renovated! The Arent Pavilion houses our free library, which offers fiction for all tastes – from thriller to romance to classic. Borrow a book and return it when you're done, no sign-out needed. Our special nature library offers news about local wildlife and plants and the opportunity to trade information on sightings. Exercise room is now up and running.
What's Doing on Weekends
Now that you've toured our facilities, you know how much you can enjoy yourself at Solair whenever you visit. And, on weekends, we have even more to do.

Friday nights are often the time for pool volleyball, poolside dancing, and other welcoming events.

On Saturday mornings, relax, swim, play a sport, or take a walk.

Socials are hosted at 3 p.m. on Saturdays. Come gather and be welcomed over tasty snacks provided by members.

On Saturday evenings, modestly-priced themed dinners are often held in the Pavilion, followed by dancing to a DJ or live band.

Enjoy a delicious sundae every Sunday at 2 p.m.
Nearby Attractions
Here at Solair we try to make your stay as fun filled as possible and feel that you may never want to leave the property until it is time to go home. On the off chance that you would like to venture out, we are located near several attractions that may be of interest to you.
Old Sturbridge Village, 12 miles
Connecticut Casinos, 60 miles
Six Flags, 50 miles
Mystic Seaport, 75 miles
Newport, 80 miles
Boston, 90 miles
The Ledges, 90 miles
Cape Cod, 100 miles
New York City, 120 miles
See you soon!