Tour of Solair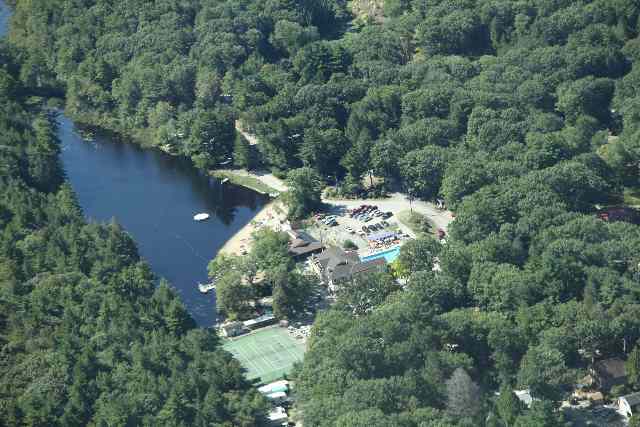 Whether you want to be adventurous and walk our many miles of trails or are looking to be sedate in our serene surroundings, Solair has it all.
This aerial view of our beautiful resort shows the heart of the camp. The large pond with sprawling beach for the quiet and solitude you may be looking for or the Olympic sized swimming pool for a more social atmosphere. For the more active visitor we have two professional tennis courts for all levels of play, shuffle board, horse shoe pit and volley ball.
Solair sits on 360 acres of woods that have miles of trails throughout. These trails are accommodating to all levels of hikers, whether you are looking for a stroll in the woods, some challenging hills or some heart pounding terrain, we have it all. The woods are also a perfect environment for the bird watcher, with many species of birds being found and catalogued. You will also find wild turkeys, deer and many other animals within our grounds as well as a wide variety of plant life.
At the end of the day, just as you think the day is over, we have one of our many summer dances, beach bonfires, and live bands or heralded dinners.
Solair, we have it all in a secure, friendly atmosphere where you come in as a stranger but you leave as a friend.
Pavilion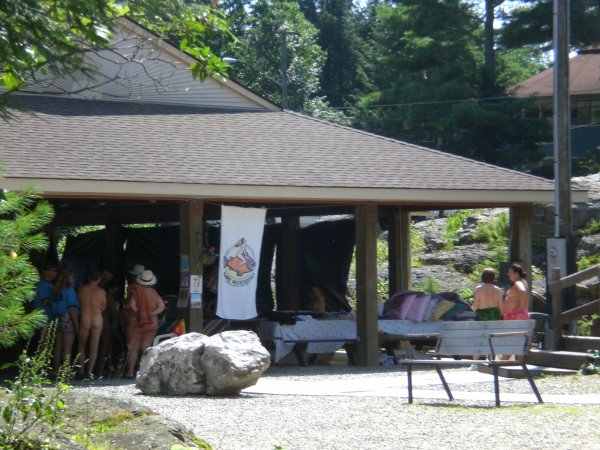 We have a large outdoor pavilion where we host the bulk of our summer fun. Many summer dances with a variety of live bands or top DJ's, theme dinners, weekly socials and Sunday Sundaes are all held there. During the summer you will always find that there is something going on in the pavilion. There are health fairs, art shows and kids activities always taking place in the structure. Now with our newly installed roll up sides we will not have to move inside during inclement weather and we are hoping to have all of our parties from Memorial Day to Halloween outside. There is no end to the fun to be had at Solair!
Community Center
Our Community Center, in the heart of our camp, is the pride and joy of our community and is often referred to as the "center of town." It is a magnificent building that houses much of our infrastructure. The first floor, off of the pool, houses our great room where members and associates enjoy our off season parties. Also on the first floor we have our unisex, earth friendly bathroom that produces no black water, a unisex shower area, a large sauna room, a large hot tub solarium, and a small service kitchen. The building has lots of relaxing areas with decks surrounding most of the building.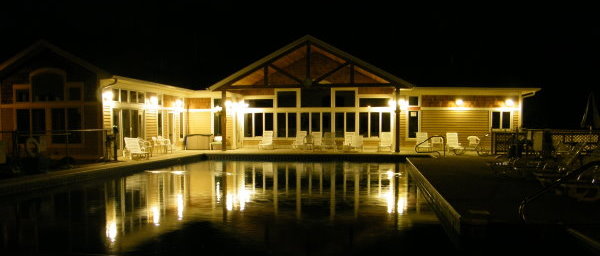 The lower level houses our media room with games including a pool table, board games, television and movie area, a community computer, and an expansive honor library where you can take a book to read and return it when done. We also accept book donation at any time, just leave your donation and our library volunteers will do the rest. Also on the lower level is the Sunshine Café for your dining needs and an industrial kitchen complete with pizza ovens for our member run theme dinners and pizza nights.
Hot Tub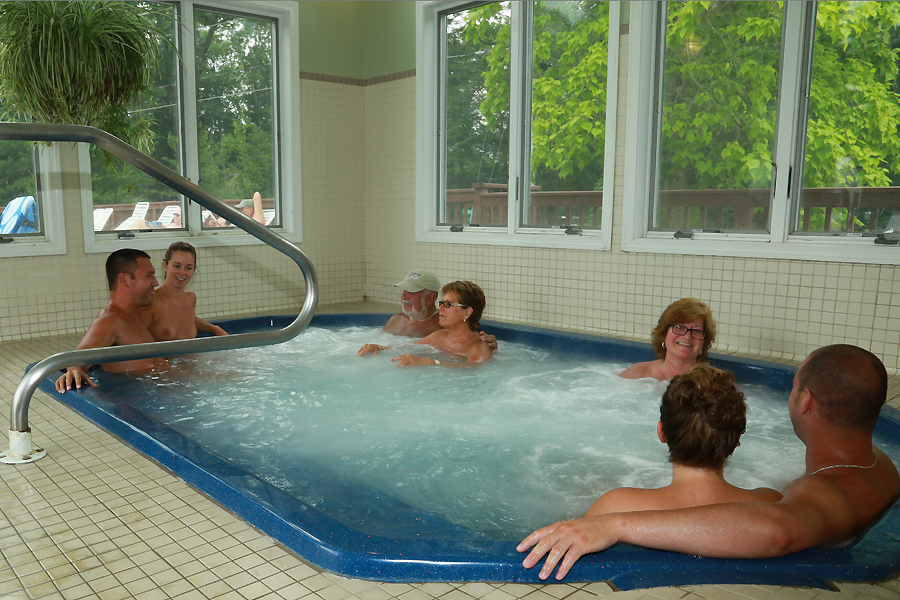 Located just off of the pool with views of our camp on three sides, the hot tub is the perfect area for relaxing with friends or loosening your sore, tired muscles from the daily grind or your vigorous walk or tennis game. It is large enough to accommodate ten in the sparkling hot water so come in and enjoy a relaxing soak.
Lake Area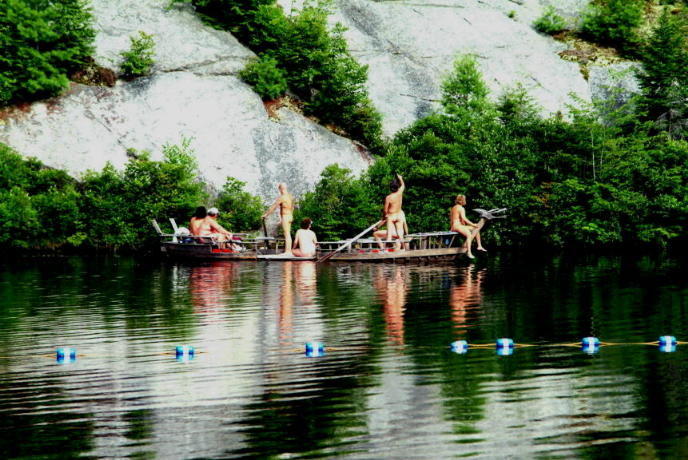 Come and enjoy the solitude of our serene lake. It is large enough to get in a long, aerobic swim but compact enough to swim to all areas around it. There is a diving platform in the middle of the lake, a roped off swimming area for the kids and we have plenty of non-motorized water craft to enjoy at your leisure, including paddle boats, canoes and kayaks. And for the pirate in you we have our very own Viking Boat!
Beach Area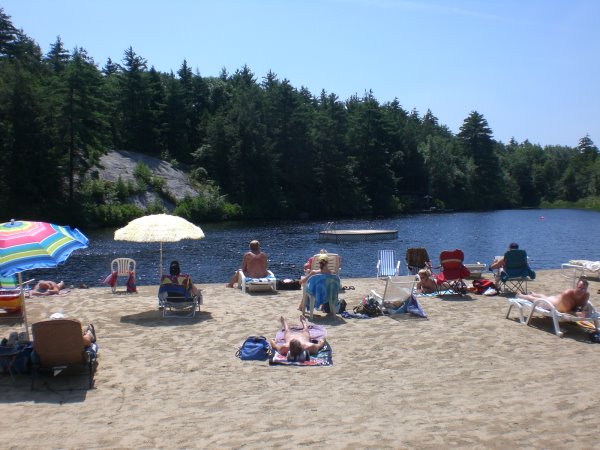 If it is a quiet place you are looking for to sunbathe naturally while reading a good book or taking a nap, then come to the beach. Beautiful, expansive and sunny, our beach will stand up to your needs and expectations. There is plenty of room to spread out and enjoy a warm sunny day. On the far side of the beach there is often a game of bocce going on.
This is also where we have several bonfires every summer and celebrate the 4th of July with a bonfire. We have an outdoor stage for one of our many DJ's to provide music for your dancing pleasure during these celebrations.
Shuffleboard and Horseshoes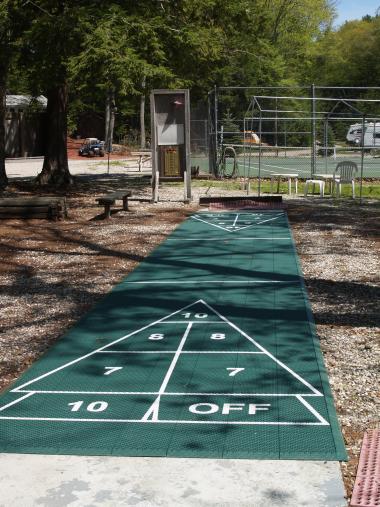 We have regulation horseshoe pits as well as a newly resurfaced shuffleboard court. They are located just a short walk from the tennis courts, Café, pool and beach and are well shaded, so if you are looking to get out of the sun for a little while, this is the place to be. It is always bustling with folks and there is always someone around interested in pitching some shoes or a rowdy game of shuffleboard. We also have a tournament every summer for both so if you are feeling competitive, come and join the fun.
Volleyball Court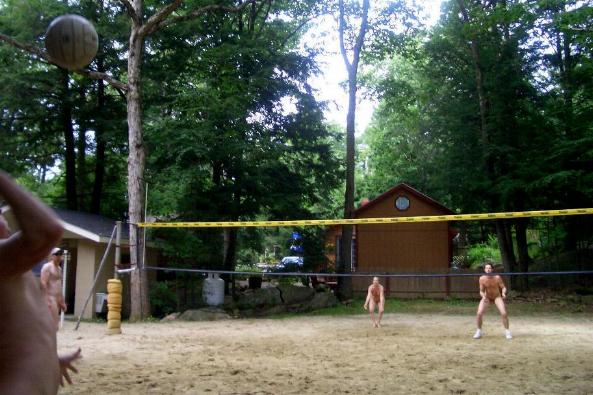 Also a short walk from the "center of town", the volleyball court is a gathering place for all those interested in playing or watching a game of volleyball. Whether you are a novice looking to learn the game or a seasoned vet, there is always a game waiting. The kids gather there on a regularly for pickup games and our more advanced players are always there looking to bring more folks into the fold. Our volleyball players are well known throughout the AANR community, having traveled to the annual tournament year after year and always making a strong showing and taking home the gold.
Pickleball and Tennis Courts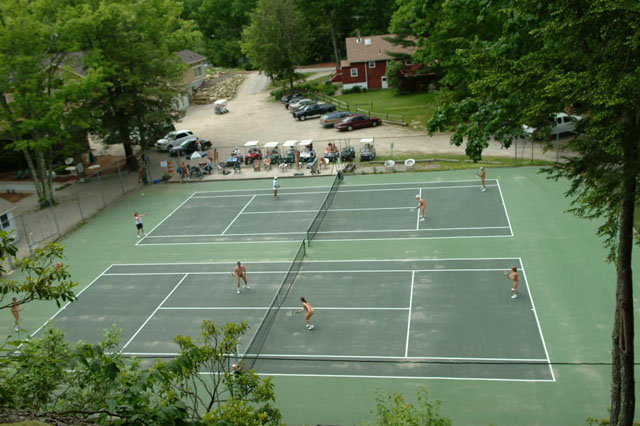 Solair loves its pickleball and tennis! We have four pickleball/two tennis courts and a club that takes pride in maintaining the courts and preserving the integrity of the games. There are often 4 pickleball games going and a signup sheet is available. We have a resident pickleball and tennis pros to help the novice learn the basics of the games and the experts to perfect it. The pickleball and tennis people welcome new folks to the courts and are always there to advise and encourage. So, whether you are new to the games or looking for someone to test your skills, you will find the courts are the place to be. Pickleball is easy to pick up and a lot of fun for everyone. Come on out and give it a try! Please bring white, non-marking soles for the courts.
Heated Outdoor Swimming Pool
In the heart of the "center of town" is our Olympic sized swimming pool. It is located adjacent to the Community Center and is within walking distance to all of our rental units as well as the beach, tennis and volleyball. We maintain the pool at a comfortable 85 degrees throughout the summer and the water is always crystal clear. At Solair, we are very energy conscious and nothing is more evident than the way we heat our pool. The pool is completely heated by solar panels mounted on the Pavilion allowing us to maintain a constant temperature from middle spring to late fall. Our effort at being green was recognized by AANR through the awarding of a grant as well as a no interest loan.
Camp Store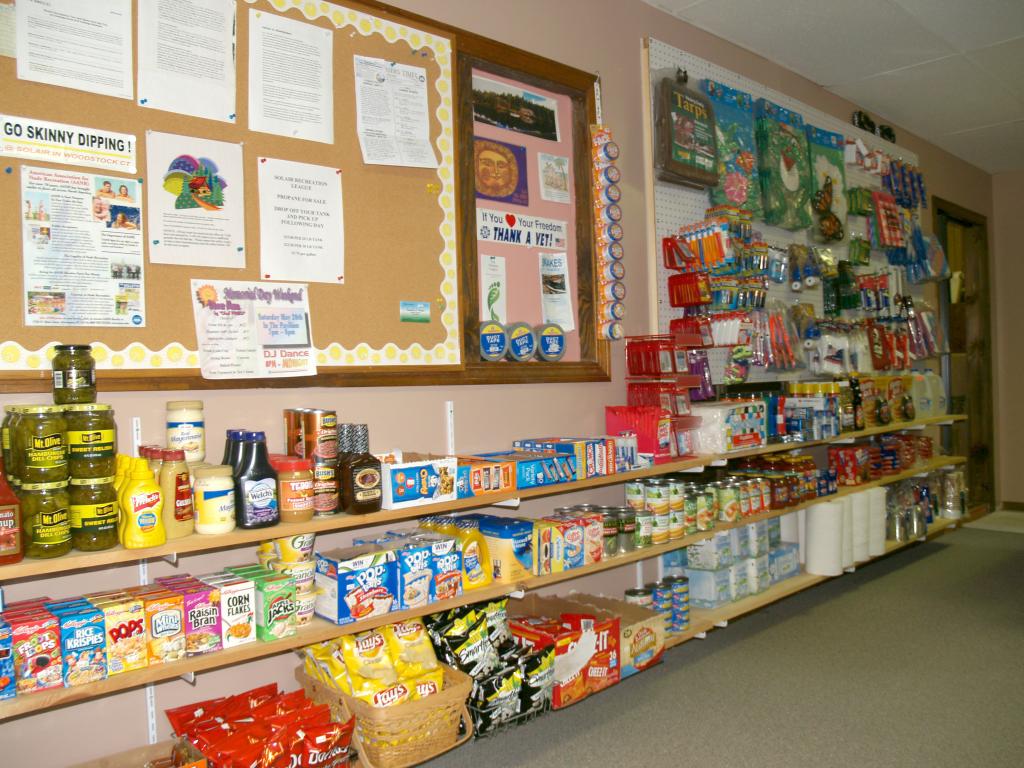 Our camp store is located in the office and carries a great selection of necessities. It is well stocked with the most common of over the counter medicines, snacks and sodas, basic meal items and dairy products. There is also a good selection of bug repellents, sun screens, toiletries and paper products. Forgot your sandals? No problem - we carry those as well as towels, t-shirts and hats. We also have a discounted section with all items being sold below cost. So stop in for a look around during your visit, you will be surprised at what you find.
Trails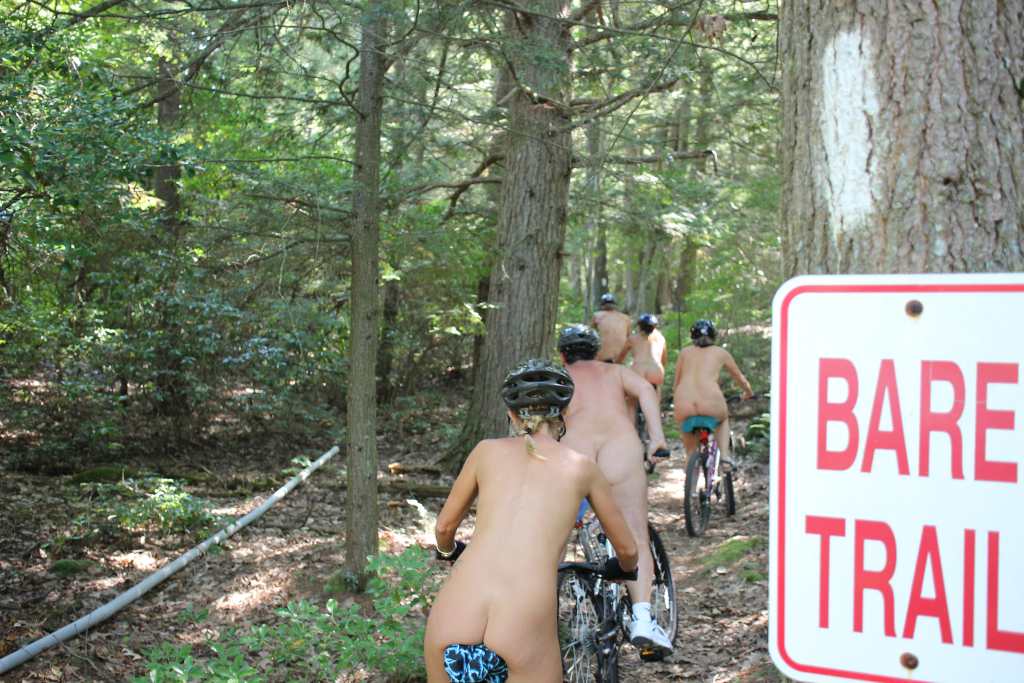 Solair is one of the largest nudist resorts in AANR, in terms of area, with 360 acres inside of our gates. Much of this acreage is undeveloped. Because of this, we have many miles of trails marked out for the hiking enthusiast. These trails will accommodate any level of hiker, from the stroller to the expert climber. You will find long, winding and virtually flat trails for those looking to walk and enjoy nature and steep, hilly terrain for those looking for some exercise. There is also plenty of room for mountain bikers and ATVs. Our natural surrounds attract many different species of birds, bugs and animals as well as a magnificent array of vegetation throughout the property. We have several meditation spots, most notably our waterfall area with the monument to honor our dearly departed. There is a bench there and the waterfall is a beautiful backdrop to contemplate your inner thoughts. Several of our members have been married at the waterfall also.
Kids' Place and Activities
Here at Solair Family Nudist Resort, we value the next generation of nudists and work hard at nurturing them in a safe atmosphere that teaches them that nudism is natural and fun. We strive to provide a range of activities for all ages including: coin and duck dunks in the pool, a wide variety of pool and lake toys, kid specific parties and games, a children's playground, and a teen center where the older kids can go to watch TV and hang out together. At Solair, we believe in family values and welcome all families to our camp.
Library, Media Center and Game Room
Located in the lower level of the community center is our library. If you are looking for a good book to read, you can find it there. We have thousands of books for all tastes, both fiction and non-fiction. All books are on the honor system.  Just find a book that you want to read, take it, and return it when you are done. There is no sign out nor time limit, just enjoy the book at your leisure and when you bring it back our library volunteers will replace it in the right spot on the shelves. We gladly accept book donations, as we are always expanding the library. So if you have books gathering dust at home, bring them in for others to enjoy. All we ask is that the bindings are intact and the book still has its cover.
Downstairs is also our Game Room, complete with pool table, and Media Center.  Besides free WiFi in the Community Center we also have a public computer you can use.  There is a TV and a collection of movies for your viewing pleasure.
Adjacent to our library is a small but well stocked naturist library. Solair has a naturist society whose members go out into the woods in search of birds, bugs and vegetation. They chronicle their findings for the library. Feel free to check out this area before your walk and see if you can add to the book. All of the information supplied in this part of the library is for viewing in the library unless otherwise specified.  So please, enjoy this part of the library but leave the information there for others to enjoy.
What's Doing at Solair
Besides all that is described above, there is much more going on at Solair. During the week it is a serene, quiet place to hang out and socialize but come Friday, the atmosphere changes.
On Friday nights, we have Friday Night Movies with recently released DVDs being shown at 8 PM in the Pavilion. New this year, we will be starting Friday night pool parties. Come socialize, listen to some great music and make new friends.
We have special theme dances and/or dinners throughout the spring, summer and fall that take place on Saturday nights.  See more details in the Events section of the website and keep checking back for more updates. We also have DJ dances and pot luck dinners on many of the other Saturday nights. Every Saturday from 3 to 4 PM during the summer are our Saturday Afternoon Socials. These are put on by our members in the Pavilion and all are welcome. Come enjoy some snacks and socialize with everyone.
Finally, on Sunday, as the day slows and the thoughts of going back to our daily grind approach, we still make time for Sunday Sundaes just outside the Pavilion. For a nominal fee, come build a sundae to help cool you and make you look forward to your next visit.
Nearby Attractions
Here at Solair we try to make your stay as fun filled as possible and feel that you may never want to leave the property until it is time to go home. On the off chance that you would like to venture out, we are located near several attractions that may be of interest to you.
Old Sturbridge Village, 12 miles
Connecticut Casinos, 60 miles
Six Flags, 50 miles
Mystic Seaport, 75 miles
Newport, 80 miles
Boston, 90 miles
The Ledges, 90 miles
Cape Cod, 100 miles
New York City, 120 miles
Remember, at Solair we never say Good Bye... It is always See Ya Next Week!!!
We hope to see you soon!